Organized and planned by Kim Jonsson, a super nice and talented photographer,
https://www.kim-jonsson.se/ instagram
Model. Alma. instagram.com/almaapalsson/ Nordic Model Agency
Stylist. Anna. instagram.com/raw.anna/
Make-up. Ellie. instagram.com/elliemalm/
And well, here's me. instagram.com/almjohannes
Aight, so while Kim shot the serious photos for magazines etc I had the opportunity to experiment a bit with my film photos. All film shots are taken with a very basic setup of a Minolta X500 and a 50mm f2. The first photos here below are on a new Kodak gold 200 stock, I had a few exposures left on it from a previous shoot. However, as is very well visible, there is some serious light leaks going on. In an attempt to somewhat match this new film to the expired one I was going to shoot with later, I allowed some light into the film chamber, and the results are in some exposures quite nice. (And some are completely wasted, but I should keep that to myself)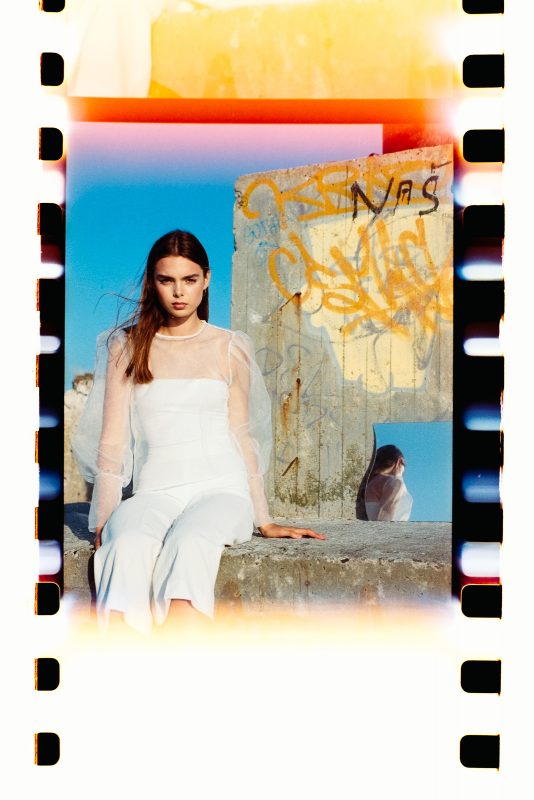 This first one came out beautiful, I feel like it has an aura of a beginning, like a cover shot for a VHS or something. Below is a the rest before the roll was out and I changed to the exciting expired one.
Alright continuing with the expired Kodacolor. So this one expired some 10 years ago and I have no idea how it spent those years. What i did know was that I had some mixed expectations on the results, both very high but also kind of non existent. So yeah I was very happy when i saw the results below.
I feel like the "film-borders" sets the tone for how the photos are interpreted so to be able to judge them in a more contemporary light I've cropped a few of them below and added a few digital shots. It's quite easy to distinguish them without any explanation. In terms of the expired film I am as mentioned pleased, and to be honest quite intrigued. The film grain is quite harsh and the edge sharpness is bad as it seems the edges kind of bleeds into each other creating this. But all of this together results in a "punchy" look in lack of better words.
Below; Some of the shots from above and a few digital Fuji.
And that's it, hope you enjoyed some of the photos, thanks!
Not being the only photographer on this shoot really gave me the freedom to experiment, and i believe that is quite evident in the photos presented here, they are somewhat all over the place in terms of consistency. But anyway, I think this is a good way to develop.
So in conclusion I don't really have one, a conclusion that is. Cheers.
Thanks to everyone involved, that is Kim, Alma, Anna, and Ellie for being such generous and kind people.
---